2012 Food A-Z: J is for Jambalaya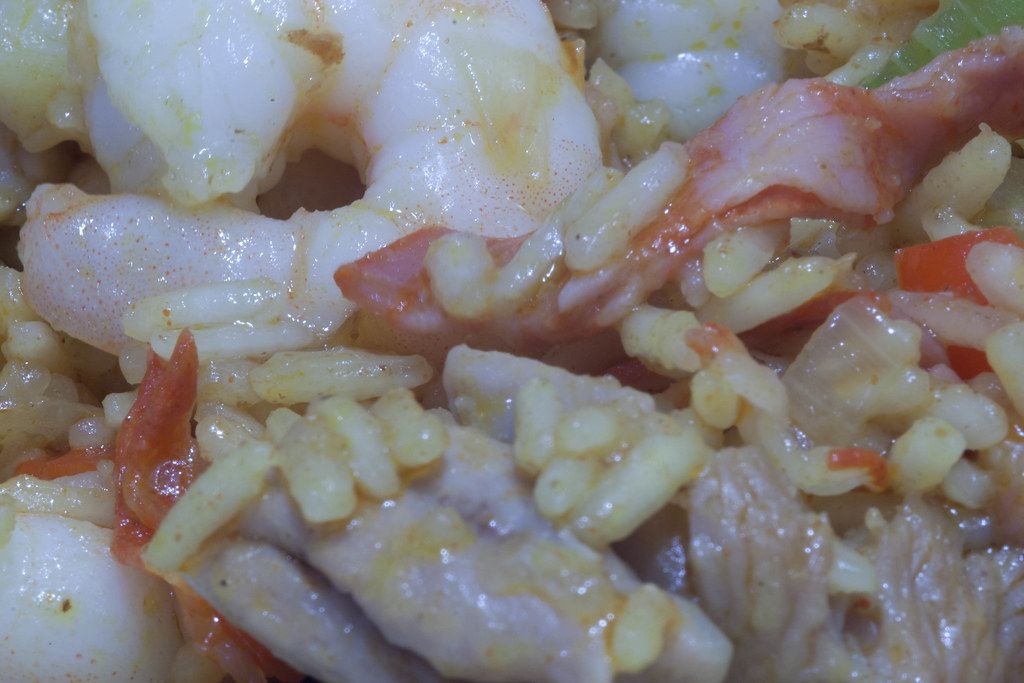 Jambalaya was my signature student dish; a spicy, ricey mixture of prawns and chicken and chorizo and bacon, easy to make by the giant panful to feed Flat 94 and whichever extended family happened to be over for tea. I still roll it out occasionally, usually on a hungover weekend afternoon when the mixture of heat and salt and comforting gooey rice feels like it would hit the spot.
Serves 4 300g long grain rice 1 tsp ground ginger 1 tsp mild chili powder 1/2 tsp cayenne pepper 2 cloves of garlic, crushed 1 large onion, chopped 2 sticks of celery, chopped 1 red pepper, chopped 4 rashers of streaky bacon, finely sliced 4 chicken thighs, boned and chopped 250g king prawns 6 slices of finely-sliced chorizo, shredded Chicken stock
Heat some olive oil in a saucepan and add the rice, gently heating it until the rice goes a bit transparent. Add the spices, fry gently for a couple of minutes, then add enough chicken stock to cook the rice as directed on the packet.
Meanwhile, add some more olive oil in a wok or large frying pan, add the garlic, and put it on the heat. Add the onions, celery and pepper and let them sweat down for a few minutes before adding the chicken and bacon.
By the time the chicken is cooked through, the rice should be cooked. Add the rice, prawns and chorizo to the large pan and fold everything together.
Serve in bowls, making sure each portion has a bit of everything. I like this with something like a Riesling.