#Beerbods, the story so far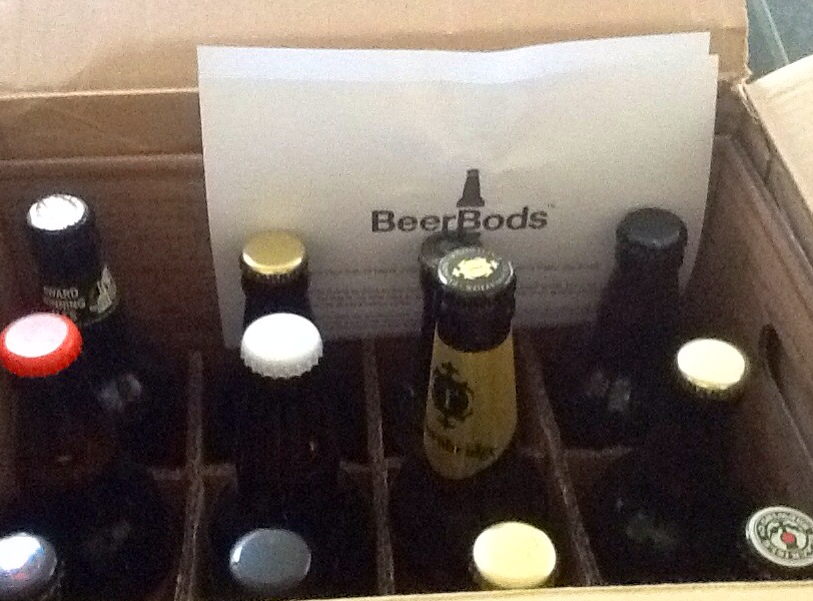 The First Box
Current Top Three
BBNo 01|06 Motueka & Lime Saison
3/9 Project Super Saison
Celt Experience Ogham Oak
(*) denotes previous or current Top Three status
Box 1
Week 1 -Yellowhammer (Black Isle) (*) Really excellent, this one. A hoppy, flinty Pale Ale of the kind I favour. Will be stocking up on some come summer.
Week 2 - Cotswold Lager (Cotswold Brewing Company) Not the best craft lager I've had by a long chalk. Better than Carling though.
Week 3 - Dorothy Goodbody's (Wye Valley) Tropical-fruity Pale Ale that somehow didn't quite grab me.
Week 4 - Saison Dupont (Dupont) I tend to struggle with this style of beer. Enjoyed it by the end of the bottle, but the first half was a battle.
Week 5 - Joseph Williamson (Liverpool Organic) Classic British Ale, all toffee and caramel. I liked it, but found the story about the chap it's named after more memorable.
Week 6 - Jaipur (Thornbridge) (*) So good. Zesty, refreshing, moreish, REALLY REALLY STRONG. I made the mistake of kicking off a session with this just recently, and got a bit sleepy. Top 2 with a bullet.
Week 7 - Mary Jane (Ilkley)
Week 8 - Tom Long (Stroud) I didn't take any notes on this one. Nice enough, but nothing special.
Week 9 - Manchester Bitter (Marble) (*) This is lovely- not at all what I was expecting. Went straight to number 3, and I'll be tracking some down for the shed.
Week 10 - Orval (Brasserie d'Orval) I enjoyed this; kind of bready, but complex. Lots going in in it that I'm keen to try again. An excellent name for punning on too.
Week 11 - Milk Stout (Bristol Beer Factory) Rich, dark, chocolatey. I'm not a big fan of stouts, but this was very tasty.
Week 12 - Old Hooky (Hook Norton) Old Hooky has a lovely fruity sweetness and a lingering biscuity finish. Less heavy than I remember from having it previously. To be fair, I was drinking it all day at a wedding, which will make anything weigh a bit heavily.
Box 2
Week 13 - Barnsey (Bath Ales) Another one that I remember enjoying, but that didn't particularly stick with me.
Week 14 - 5am Saint (Brewdog) My third favourite Brewdog.
Week 15 - Fraoch Heather Ale (Williams Bros) Didn't do it for me, this one. A bit too much on the light and heathery side.
Week 16 - Old Intentional (Derby Brewing Company) I am bobbins at this tasting lark. Something sweet-fruity on the nose. Strawberrys? Bramble jelly? This is all about the brown sugar and caramel. Heavier than it looks, and a loooooong finish
Week 17 - O6 Porter (Otley) O6 tastes like mince pies. Or that might be the mince pies. Bit heavy for my tastes.
Week 18 - Espresso (Dark Star). You can definitely get the coffee in this. It's in the nose, on the palate and the finish. It's deep and rich and I like it, but I can't imagine drinking more than the one - black beers just aren't my speed.
Week 19 - Nut Brown Ale (Samuel Smith's). Apparently Samuel "cheapest pubs in London" Smith and John "Peter Kay Adverts" Smith are related. This is a traditional Yorkshire Brown Ale - deep brown, doesn't keep a head, very malty and caramelly and nutty. I won't be buying cases of it for home, but it might be my preferred choice next time I'm in one of their pubs.
Week 20 - Triple Chocoholic (Saltaire). Like this one quite a lot. Not heavy at all. Not overpoweringly sweet, but also without the dark beer bitterness ( cf Espresso). I drank it whilst making chocolate chip and bacon cookies, which may have informed my recommendations of food pairings: "Uncooked cookie dough, chocolate chips, condensed milk, shortbread, bacon, brown sugar, black garlic all pair excellently"
Week 21 - Ubu (Purity). Warwickshire represent represent! It's actually really hard to think of anything to say about this, just because it's a local favourite and I'm perhaps a bit too familiar with it. Not my favourite Purity ale (that'd be Mad Goose), but a solid choice round these parts.
Week 22 - Dry Stout (Stringer's). I'm not traditionally a fan of black beers, but this Beerbods box has introduced me to various styles of the darker arts with which I wasn't previously familiar. This, however, is more or less exactly what I expect from dark beer. A good execution of a style I'm not particularly fond of.
Week 23 - Conqueror (Windsor & Eton). Case in point, this is a black beer that defies all expectations. A black IPA, it really is confusing. All the citrusy dryness of a proper IPA, but with a smoky liquorice twist. Tastily bizarre, and snapping at the heels of my top three.
Week 24 - Brooklyn Brown Ale (Brooklyn). After a box of nutty/caramelly/chocolatey brown, amber and darker ales, this is a real surprise. It's more richly fruity than I was expecting, very luxurious and smooth.
Box 3
Week 25 - Old Engine Oil (Harviestoun). Velvety, luxurious porter. Silky, liquoricey and with a salty tang. There's apparently a whisky-barrel-aged variant on this, which I'd be interested to track down.
Week 26 - Ruby Mild (Rudgate). I do like a Mild, ever since I worked in the Barley Mow in Loughborough and it was £1.10 a pint. This is no exception, but although I enjoyed it, it didn't really stick with me for long afterwards
Week 27 - Stinger Ale (Hall and Woodhouse). It's got nettles in it, it's organic, it's affiliated with Hugh Fearnley-Whittingstall and Badger Ales. It should have been a shoo-in for me, but instead I was a bit disappointed. A bit too light, verging on watery, and very little character to remember it by.
Week 28 - Barbus Barbus (Butt's). Barbus is right in my dry, hoppy wheelhouse. Has a sweetness that I canít place in there too; too sharp to be honey. I'm going with marmalade, but I could be persuaded by dried apricots. Pretty damn good. Top 3 good? Maybe not quite, but it's up there.
Week 29 - Gadd's No. 3 (Ramsgate). The gimmick of this Kentish bottle-conditioned Pale Ale is that it's young, fresh, and local. The label boasts that they only sell it i, and that the Best Before date is never longer than 6 months from bottling. To me, 'freshness' usually seems like a ridiculous quality to be attaching to beer, but in this case there's definitely something to it. Wonderfully drinkable for its 5%.
Week 30 - Citra (Oakham) Less dry and aggressive than I was expecting given how front-and-centre the hops are in teh marketing. Sweet lemons, and a soft finish.
Week 31 - Ted (Flat Cap) Not taken with this one - a bit thin, and lacking any real bite.
Week 32 - 5-Barrel Pale Ale (Odell's) (*) This one's a bit special. Got more out of this the further I got down it; come for the citrusy hop dryness, stay for unexpected vanilla-honey goodness. Top 3, replacing the Jaipur, and stayed there for almost 2 years!
Week 33 - Xs (Hop Studio) Wasn't sure what to make of the this one. Has the comforting malty caramel of a trad session ale, but is a bit strong for that. Really felt it by the bottom of the bottle, not sure I could have done another.
Week 34 - Ivanhoe (Ridgeway) Not sure about this week. Has a strange metallic tang to it. Either that or I've accidentally cut my lip.
Week 35 - Epic Saison (Wild Beer) I'm not traditionally a fan of this style of beer. Here's what I thought about the last one Matt picked out. That said, this is a little more my speed. Aside from the first mouthful, the yeast isn't as overpowering as I often find it. It's herby and kind of floral, which is unusual, and not really that cough-mediciney at all.
Week 36 - Russet Multigrain (Loddon) Very much enjoyed this. Nothing more than a very tasty ruby bitter. Traditional done right.
Box 4
Week 37 - Harbour IPA (Harbour) My bottle of this one was oxidised, and tasted a bit fishy. The replacement bottle was much, much better. Reminds me a little of Blue Moon - orangey rather than citrusy, with a spicy, peppery note.
Week 38 - Berne (Brewers & Union) I enjoy a Bavarian-style lager. Not sure this is up there with WEST's Munich Red, but it's very good. It's the best parts of a good malty Best Bitter, but it's pleasingly carbonated and stands up to a good chilling
Week 39 - Yankee (Rooster) Very pale, big grapefruity hoppy hit, and then… not much. Almost disappears on the finish. In some ways, all the more refreshing for it. I can imagine getting through a fair amount of this on a sunny day. I have maybe been overdoing the super-bitter IPAs recently. I do kind of wish I had another one.
Week 40 - Curious Lager (Chapel Down Winery) I got most of the way down my Curious Lager before I remembered I had forgotten to actually taste it. Creamy, and floral, and maybe slightly vanillaish? I don't have any left now.
Week 41 - Love Not War (London Fields) Lovely - starts off with trad bitter caramel and finishes with a craft beer hoppy kick.
Week 42 - Proper Job (St Austell) I had Proper Job on a sunny day in Cornwall a few years ago, and enjoyed it no end. For some reason, though, I thought it was going to be a dark bitter rather than an IPA. No idea why. Anyway, I can see this becoming my new easily-available-in-supermarkets-fallback-beer. You have one of those, right?
Week 43 - Anarchy Lager (Anarchy) Disturbingly drinkable for 7%.
Week 44 - Wreckless (Red Willow) A bit of a strange one. The flavours (bit hoppy, bit malty, not too much either way) seem designed for a session ale, …but then it's 4.8%, which is less sessionable. If this was around 4%, it'd challenge Dead Pony Club as my afternoon beer.
Week 45 - Wandle (Sambrooks) My Random Sambrooks was Wandle. Straight-up English Best Bitter. Can imagine sessioning on it in the right pub, but wouldn't go out of my way for it
Week 46 - Avalanche (Loch Fyne) Had kippers at Loch Fyne for breakfast. So this seemed appropriate. Top-notch summery Pale Ale this. Not quite a top 3, but pretty damn close.
Week 47 - Icelandic White Ale (Einstok) I have only had Scandinavian beer once. It was called God, and accompanied with reindeer sausages. I am pretty sure that happened and wasn't a dream. This is unexpected. Fruity, and amazingly clean. Reminds me of the Gadd's No. 3 from a while back.
Week 48 - Harvest Moon (Grain) Rather predictably, being a hop-laden Pale Ale, this was the favourite of all the excellent Grain ales that I sampled on our Easter trip to North Norfolk.
Box 5
Week 49 - Infinity (Blue Monkey) This is a nicely-balanced Pale Ale of my favoured type. The Citra hops comes through nicely, but the initial nose is unfortunately a bit too much like my trainers to be pleasant.
Week 50 - Ginger Pale Ale (Little Valley) Trying to make a Gingery beer is a tricky balancing act, because you don't just want to end up with Ginger Beer. This has a powerful gingery hit up front, and a nicely hoppy finish, but I'm not overly convinced about the whole experience.
Week 51 - Infrared (Hardknott) Didn't really enjoy this. Over-foamy on the pour, and overly aggressive flavour. You could taste the ABV, and not in a good way. Also, nowhere near as hoppy as the label would have one believe.
Week 52 - Bombay 106 (Durham) "Taste the hops on that" "I'm not tasting anything" "you would though, if you were drinking it. You could go out and have a bite to eat, you'd still be tasting that one". Which is my way of saying By crikey this Durham Bombay 106 is really, really good. Would have been top 3 material if not for the 7% ABV. A lovely way to end the #beerbods year
Week 53 - Orchid Mild (East London) I love a good mild. Something comforting and nostalgic about it. This ELB Orchid is a lovely example of the style. The vanilla really cuts through in the finish, which softens the cinder toffee. Smooth.
Week 54 - Orange IPA (Art Brew), then. First impressions were of a competent, but not remarkable, American-style IPA, but then the orange kicked in, instead of the usual citrus/grapefruit finish. A clever twist, I like it. Again, a bit too strong for me to elevate to Top 3 status.
Week 55 - Baltic Nights (Compass) No longer on labour-ward-run enforced sobriety, I'm playing catchup and by heck this is a good place to pick up from. The velvety smoothness of a black beer, but none of the usual bitterness.
Week 56 - Dark Age (Celt) Complex: coffee and chocolate sure, but something fruity in there too. A bit gassy though.
Week 57 - Wotever Next (Teme Valley) Everything I love in a British bitter. Bags of caramelly flavour. Autumnal.
Week 58 - Rise Pale Ale (Kubla) A lovely fresh, grapefruity pale ale. Not overly dry or aggressive on the hop front, and a slightly sweet finish
Week 59 - Darwin's Origin (Salopian) The best of both a hoppy pale ale and a coppery, caramelly best bitter. Pretty special.
Week 60 - Amber Ale (Hitachino Nest) Really good amber ale, with an unexpectedly licoricey finish
Box 6
Week 61 - Smog Rocket Porter (Beavertown) This has a softer smokiness than I expected. Very pronounced waft of pontefract cakes. Moreish.
Week 62 - Black Perle (Weird Beard) - A bit lively. Smooth and chocolatey, not getting much coffee. Over-carbonated, though. It's a grower, and I like the dry-as-a-bone finish, but I preferred the sweetness of the Smog Rocket
Week 63 - Yorkshire Square (Black Sheep) I have special affection for Black Sheep Breweries. I wrote why here, last year. Yorkshire Square isn't my favourite of their beers (Best Bitter, thanks for asking) but it is comfortingly familiar. Shame it has that 'strong beer' aftertaste, mind you.
Week 64 - Bramble Stout (Burton Bridge) Pours thinner than I was expecting. The blackberry juice is there in the aroma, but not as up front in the flavour as I was expecting. Pleasant and refreshing. Remarkably drinkable for a 5% stout, not at all heavy or cloying like sweetness added to black beer can be
Week 65 - Chilli Plum Porter (Waen Brewery) Oh, I really like that. Similar in concept to the bramble stout from last week, but I think more successful. Not really getting the chili, but the plum is front and centre with all the smoky toffee porter goodness. About ten minutes after finishing it, I tasted the chilis.
Week 66 - Tasmanian Devil (Arbor) is as well-balanced a beer as I've tasted. Super-hoppy, but with hefty malts coming through too.
Week 67 - Shepherds Watch (Wold Top) No Yorkshire Parkin to go with this . But The Wife did bake gingerbread men today. This is why I like Beerbods. I would never buy a 6% dark beer usually. But this is really nice. Goldings and Cascade hops work as well in dark beers as in pale ales, it seems. Tasty.
Week 68 - Black Rocks (Buxton) I think Black IPAs are the favourite beer style has introduced me to. The Buxton Black Rocks isn't quite Conqueror, but it's close
Week 69 - India Export Porter (Kernel) I have pork pie, this week's #beerbods and The Princess Bride is on. I don't know where the line between Porter and Black IPA lies, but this must be hovering around it. Superbly hoppy and smoky. Goes well with mince pies, by the way.
Week 70 - Rochefort 6 (Abbaye Rochefort) I drank this one a little over a year late - I found it in the shed when I was tidying up (it had rolled under the lawnmower). Corking - cloves and banana bread, sweet and golden. Honestly, I possibly wouldn't have appreciated it if I'd drunk it at the time.
Week 71 - Titanic Stout (Titanic) By crikey that's smoky. Has all the rubbery Elastoplast finish of a good Islay Whisky. Something hefty, like a Talisker. I'd put this in my top Beerbods stouts, along with the Bristol Milk Stout.
Week 72 - Dark Side of The Moose (Purple Moose) Discovered @PurpleMooseBrew when I was on holiday in Snowdonia in 2012. Haven't tried Dark Side of the Moose before though. Not a great deal here for me. Pours pretty flat, has the usual characteristics of a dark bitter, but pretty unremarkable. I'd recommend the Snowdonia pale ale over this. That's a corker.
Box 7
Week 73 - Liquid Mistress (Siren) Lots going on in this; huge biscuity malt backbone to balance the IPA hop hit. I like these non-Pale IPAs. Black IPAs were my discovery of last year, and it turns out red ones are nice too. Any other shades? Is there a difference between a red IPA and an Amber Ale? Similarities here to Brewdog's 5am Saint, I think
Week 74 - Seven (Bristol Beer Factory). A solid take on a traditional English bitter. No fireworks or cleverness in it; it's just an excellent example of a style that can often be a bit boring.
Week 75 - Yakima Red (Meantime). It stopped raining for a bit. It was still pretty windy, but I took my life in my hands to retrieve the Yakima Red from the shed. I had this before, in the tiny downstairs dining room of a barbecue place in Soho, with the Bens. Is it an Amber Ale or a Red IPA? Someone said I'd see be the difference between this and the Liquid Mistress, but that was 2 weeks ago!
Week 76 - Budding (Stroud). Valentines Day. Had a great day off. Took the boy swimming, the wife made me valentines cupcakes, and now I am eating crisps and drinking a beer named after the man who invented the law mower. No matter how many cool new beer styles introduces me to, the fruity Pale Ale will always have my heart #valentinesday
Week 77 - Liberty Ale (Anchor) I had my first Anchor (Steam) in a BYO burrito place on Mission. Fluorescent lights, Formica tables, queue out the door. Amazing. But not had Liberty before. First taste immediately reminds me it's not actually summer right now. Here's where my tasting vocabulary fails me, for this hits none of my four go-to references for pale ales. It's got a lovely balance between the malt and hops, and a sweetness that I associate with stronger ales. Not cloying though
Week 78 - Long Blonde (Long Man). Reminds me of Everards Sunchaser. Very light, almost perfumed. This has a little more bitterness though. And like Sunchaser, this Long Blonde goes down remarkably quickly. #tooeasy
Week 79 - Notting Hill Red (Moncado). Quite a lot going on in that one. I'm genuinely perplexed. Oranges! Or more specifically bitter oranges, a bit like Grand Marnier. Is anyone still there? I'm really not sure how much I appreciated being hoodwinked by a beer
Week 80 - Wolf (Allendale) Treacly, with a biscuity finish; solid stuff but not blown away by this big bad wolf #dyswidt
Week 81 - Pale Ale (Camden). They serve this in pitchers at Bloomsbury Lanes, if I remember rightly. It reminds me a little of the Williams Bros Caesar Augustus. Like a hoppy lager. I did a side-by-side taste with Brewdog Dead Pony Club, you know, for science. DPC a little fruitier IMO
Week 82 - ONE (XT) Excellent. Really refreshing, Czech-style blonde. Sharp and vibrant and now all gone.
Week 83 - Windermere Pale (Hawkshead) is lovely stuff. Brings back some Lake District memories. I was drinking this after we tried to walk Scafell Pike but went to the wrong hill. Turns out there are two Borrowdales. We were sat next to an awful toff who was loudly telling his friend that rosé wine is made by mixing together red and white wine. But yes, I like that the Citra isn't front-and-centre here, there's more going on. Refreshing bitey bitterness.
Week 84 - Silver Dollar (Tyne Bank). All the hoppiness you'd expect from an American Pale Ale, but with a hefty malt sweetness balancing it
Box 8
Week 85 - New World IPA (Northern Monk) is a bit more rounded than yer usual modern IPA. Something softer I can't place (toasted tea cake sweets) in the finish.
Week 86 - Dr Hexter's Healer (West Berkshire) I accidentally drunk all of this without noticing. Solid trad bitter, with a bitter orange finish.
Week 87 - Hill Climb (Preston) I'm not often a fan of wheat beers, but I like the cleanliness a bit of wheat brings to this
Week 88 - Black Cat (Moorhouse) I really enjoy a mild when we have one in the box. I wonder why I never buy them otherwise?
Week 89 - Hadouken (Tiny Rebel). This manages to do the >7% IPA without being cloying. Closes off a sunny Saturday quite nicely
Week 90 - Tap7 (Schneider Weisse) I know I've banged on about this before, but Beerbods is truly helping me get over my wheat beer prejudice. The foam-banana-sweet flavour I generally associate with yeast-forward beers is much less pronounced in this one
Week 91 - Siberia (Ilkley) (*) As Matt Beerbods predicted, I was stumped by this Rhubarb Saison to start with #stumped. In the end, thoroughly enjoyed it. The rhubarb offset the banana aftertaste I usually dislike in that style. Sour and Tasty. Wasn't top 3 initially, but has been pushed in there by subsequently tastings.
Week 92 - B Bock (Bateman's) The first mouthful is a ridiculously malty punch in the face.
Week 93 - Finesse (Savour) (*) Due to my new-found non-aversion towards Saison-style beers, I was excited to tuck into this. I definitely need to re-evaluate my life choices. It seems I have been missing out on tasty beer for some years now. Is it fair to say that Finess is a bit less yeasty than other Saisons? It seems like it leans on the hops a bit more than I expect. Goddamn autocorrect. Finesse. Not Finess and definitely not Fitness. #spelling. Was Top 3 until the Ilkley Siberia grew on me.
Week 94 - Goats Leap IPA (Cheddar Ales) A bit lively. I prefer my IPAs fruitier, but this has a nuttiness I'm quite enjoying
Week 95 - TEA (Hogs Back). Proper.
Week 96 - Crafty Dan Big Ben (Thwaites). Pours as headless as a French aristocrat. And slightly fizzier. Treacly and slightly nutty. A tasty example of a style I'm not wild about.
Box 9
Week 97 - Schiehallion (Harviestoun). Possibly the best lager I've had that's not trying slavishly hard to be Bavarian. I enjoy a Scottish Bavarian Lager - Brewdog and WEST both do good ones. This is a little crisper, though
Week 98 - Ginger Hare (Bath Ales). Unsure about this. Not as good as the Little Valley Ginger Pale from last year; a bit too close to Ginger beer for my liking. That said, the spicy kick lends an extra something to this pizza.
Week 99 - Guzzler (York). A good reminder that hops aren't a recent discovery, and that refreshingly hoppy needn't mean blisteringly bitter
Week 100 - Chinook Mosaic Centennial IPA (Partizan) I've had some other Partizan IPAs, but not this exact one. It's mighty tasty. Avoids the cloying sweetness you occasionally get with stronger IPAs (it's 7.1%). More bitter than fruity. Lovely. What's more, I always enjoy the label art on Partizan beers too. I had an 8-grain Porter from the shed to follow this one up with, and celebrate 100 Bottles of Beerbods.
Week 101 - 1907 (Orkell's) Reminds me of Proper Job and the Durham Bombay 106. Which is to say I am enjoying it immensely
Week 102 - Dorothy's Country Ale (Wye Valley) I enjoy Wye Valley beers - we had Butty Bach at our wedding - but wasn't a friend of Dorothy last time we visited her and I'm not totally sold on the labelling of these. If you're going retro-sexist pin-up, at least make her a welder or something. Anyway, Dorothy's Country Ale is a hearty, malty trad bitter. Its balance disguises its 6% nicely.
Week 103 - Ruby Red Ale (St Peters) Rich and fruity, with a biscuity, nutty finish. Not as heavy as I expected. Autumnal.
Week 104 - Dark Unfiltered Lager (Brewers & Union) They used to have Brewers & Union Beast of the Deep in the fridges at our third-from-local. That was a hell of a beer. I've had some ropey dark lagers where they've gone overboard on the smoke. This isn't one of them. In fact, if I was blindfolded, I'm not sure I'd know it was a dark lager.
Well, it'd be dark, obviously. That's not what I mean
Look, it doesn't matter that I wouldn't be able to find the beer with a blindfold on, or tweet about it. That's not the point. I was just trying to make a point about it being a more subtle example of the style, but no. YOU had to take me literally.
Week 105 - Amber Ale (Fourpure) No frills, refreshing bitter. I've heard Fourpure described as 'consensual' beers. Seems apt to me.
Week 106 - Edinburgh Gold (Stewart) Crikey, that's a bit lively. So now I've acquired a taste for yeasty beers, this is very pleasant. But it's a bit over-carbonated, so I'm really burpy. #burp
Week 107 - Chiron (Thornbridge) Well, that's not mucking about, is it? Sharper fruit than I generally associate with US IPAs. Lemon, not grapefruit
Week 108 - Saddle Black (Purity) Purity are from round here, so it's fairly common to see them around and about. Never had Saddle Black, though. Next time I'm Alcester way, I may try and snag myself a few. This is lovely. Treacly and Liquoricey and nutty and a really rich mouthfeel. Quite glad they don't serve this in my local. I'd only drink it. So my Purity countdown is now Mad Goose, Saddle Black, Ubu, Gold, Longhorn.
Box 10
Week 109 - 5 Sisters IPA (Alechemy) Plenty going on. Nice transition from summer refreshers to winter warmers. The first third was all hefty hop hit, but gets more malty as I get down it.
Week 110 - Penryn Pale Ale (Rebel) I made no notes on this, it seems, because of the Internet going down.
Week 111 - Peter, Pale and Mary (Mikeller) Everything I love in an IPA, with an interesting sourness up front.
Week 112 - Old Sodbury Mild (Cotswold Spring) I love a good mild, and you don't see them that often. A bit lively ! Deep and rich and velvety, but my first mouthful was a bit over-carbonated. Gave it a minute to settle down - once it warmed up and the fizz has gone, it's the closest I've been to being a 20-year old barman in Loughborough in years
Week 113 - Ghost Ship (Adnams) I like Ghost Ship. I like Adnams, generally. Their brewery in Southwold is nice. Southwold is nice.
Week 114 - IPA (Lagunitas) That's how you do an IPA.
Week 115 - Audit Ale (Westerham) November in a glass
Week 116 - Dissolution IPA (Kirkstall) Jackhammer levels of bitterness, lovely clean moreish finish. Comes in a decent-sized bottle too!
Week 117 - American Brown Ale (Runaway) Overcarbonated to start with, but could have gone for a bigger bottle of this when it settled down. Rich and nutty, really tasty
Week 118 - Pacific Gem (Firebird) Didn't get on with this. A bit yeasty for my tastes.
Week 119 - Dogma (Brewdog) A big liquorice thump,followed by honey sweetness. Brewdog's scotch ales aren't as well known as their hop bombs,but they're goood. I think my favourite Brewdog is one of their Scotch ales, actually: Bourbon Baby. Bit less hefty than this one
Week 120 - Bods Green Hop (Teme Valley Brewery) Light and fresh and clean and utterly charming. There's a fruit finish I'm struggling to place. Manages to be hop-forward and subtle at the same time. Good work chaps!
Box 11
Week 121 - Imperial Stout (Dark Star) (*) Love Dark Star. Just awesome, really. Rich, smooth, probably new top 3 (needs scientifically validating). Merry Christmas everyone.
Interlude: 12 Beerbods of Christmas
Anchor Christmas Ale pours dark, and has a rich, velvety mouthfeel. Spiced fruit and vanilla. Tree's up, Xmas is here
Hook Norton 12 Days: wintery, but not so Christmassy. Liquorice, smoke, Elastoplast. Like a peated scotch.
Waen Snowball: A Chocolate, Coconut and Vanilla stout from the brewery that brought us the Chili Plum Porter? Don't mind if I do. By crikey that's black. Pours like engine oil. Amazing. Tastes like cooled-down hot chocolate. Perfect sweet/bitter balance. Certainly doesn't taste 7%. And no, "cooled-down hot chocolate" isn't just 'chocolate'.
Unexpected change of speed from the Sam Smith's Winter Welcome. Tastes like Yorkshire
Compass Berry smells like Chapstick. Sour beers are a great, underappreciated style. Got the taste on @bladkin's stag do in Brussels. Yesterday hinted at berry fruits. This one marches you into the shop, points and says "WANT THAT ONE"
Icelandic Doppelbock, Chocolate Brazils, The Avengers
Brass Castle Bad Kitty: Shrek, salted caramel cashews, chocolate orange
I had Westmale Dubbel once before, in a big box of Belgian beers. Incredibly nimble for a big chap
The Wife made Christmas rocky road. Tasty, but less rich, nutty and chocolatey than this Westerham Double Stout
Bristletoe is superbly drinkable. More straight-up than some of the last few days. A solid Monday pint. Also it goes exceptionally well with Maltesers
Wild Hmm not sure this is one is my speed. After nursing this for an hour going to have to give it up. Reminds me of the Boots Brew in a Bag I made as a student. Really doesn't go with Maltesers.
Hoppy Christmas toys with (but avoids) that resiny quality @malcsp76 enjoys in US Pale Ales that I don't like. I guess this is how to do a Christmas IPA. Malty backbone to give the winter feeling, and to balance the hop attack.
End of Interlude
Week 122 - Pale Ale (Harbour) A corker. Perfect hoppy antidote to all that uncivilised overindulge of the last 3 or 4 weeks. #catchup
Week 123 - Postmans Knock (Hobson's) Love a mild. This one has an amazing vanilla smoothness.
Week 124 - 8-Ball (Beavertown) The only Beavertown I've had before, courtesy of @LondonBeerLab's little shop. A Rye IPA, it's slightly maltier, which I appreciate in this weather. More heft, less bitter. #iknewagirllikethatonce
Week 125 - Seven Giraffes (Williams Bros) Big fan of Williams Bros, and really like @PurpleMooseBrew's elderflower PA Ysgawen. I generally prefer a little more bitterness, but I'll make an exception. Lovely balance. The elderflower adds just a little fragrance, it's not gratuitous. Gratuitous Elderflower is my mid-nineties indie band name.
Week 126 - Oatmeal Stout (Samuel Smith) Generally more impressed with Sam Smith's bottled offerings than I am in their pubs. Very smooth, but not a lot else here for me.
Week 127 - Hiver (Hiver) Honey is an ingredient in cough medicine, so I am confident this Hiver honey beer is going to cure me. Confession: when I first opened this box, I thought this was a fancy Winter Ale. You can take the man out of the French student etc. Ahem. That didn't really come out the way I intended. Anyway, this honey beer is tastier than Gin & Lemsip
Week 128 - O9 Blonde (Otley) Fragrant, clean, exceptional wheat beer. I've often been a bit lukewarm on wheat beers, but Otley O9 is quite special. Fragrant (elderflower?), and a biscuity dryness
Week 129 - Double Stout (Hook Norton) Is it odd that I really enjoyed pouring the Hooky Double Stout? It was a satisfying pour. Solid, old-school.
Week 130 - Pioneer (Freedom) An OK craft lager, not my favourite by a long chalk. It's fine, but missing something for me.
Week 131 - Gladeye IPA (Drygate) Nice dry finish but I prefer my IPAs with a little more punch
Week 132 - Pride (Saltaire) Solid Pale Ale. I could drink a lot of this. I have a proper soft spot for Yorkshire bitters.
Box 12
Week 133 - Jarl (Fyne Ales) Right up my street, this. Clean, Dry as a bone. Super-long Citra finish. Superb. Not quite top 3 but ever so close.
Week 134 - Curious Porter (Chapel Down Winery) Quietly awesome. The comparison to Pinot Noir is apt. Soft, deeply flavoured, but not hefty or show-offy
Week 135 - ISIS Pale (Compass) Wow, this is unexpected. Whopping caramel sweetness. This is great. Sweet to offset the hops, but without the thick resinous quality of a higher ABV pale ale
Week 136 - Lagerbier Hells (Augustiner) gives my favourite German-style lager (WEST St Mungo) a run for its money. Perfumed, slightly sweet, lightly carbonated. Full of character…
Week 137 - Ogham Oak (Celt Experience) (*) This is a bit special. Could be a top 3 contender. Absolute belter. Deep malts, yeast-forward, with a hint of cinnamon.
Week 138 - Dark Island (Orkney) All the smoky treacle of a hefty stout, but with a lighter touch. Goes well with Crunchier
Week 139 - Red Kite (Black Isle) Been looking forward to this since the box arrived. Their Yellowhammer is still my number 1. Not quite top three material, but a hell of a beer nonetheless. Hoppy red ales are one of the things BeerBods taught me.
Week 140 - Black Geld (Wharfe Bank) Huge liquoricey treacle thump, calming down to a dry, moreish bitterness. Like being cuddled by a Pontefract cake. As this has warmed up a little, I'm getting a bit more coffee. Like smooth, cold-brewed coffee.
Week 141 - Over The Hill (Hillside) Love a mild, me. This is dark bitter chocolate and smooth smoke. Goes very well with Tiramisu
Week 142 - Little Wild (Little Beer Corp) Not sure what to make of this Little Wild. Hoppy for sure, less malty than I expected. Super-bitter, which I appreciate.
Week 143 - Abdominal Stoneman (Lymestone) :So I have a 7% USPA, and it's sunny. I'm thinking a bit of fridge? Poured a bit flat, but pretty well conditioned. Not as aggressive as the 7% would suggest. In fact, remarkably well-balanced for the ABV. The malts are doing a job, not just propping up the hops. it doesn't have that resiny twang that @malcsp76 likes so much. Unusual to get one of these in an old school pint bottle
Week 144 - Yakima IPA (Great Heck) I've liked every Yakima-hopped beer I've had, and this is probably the best of them. I wonder why they're usually redder?
Box 13
Week 145 - Sunshine (Brass Castle) A belter of an IPA. Citrus waft as soon as you pop the cap, as it were. Unusual to get something this strong in a pint bottle, mind.
Week 146 - DOC (First Chop) Can understand why so many were lukewarm on the FirstChop DOC last night - it's very light, and extremely subtle. There's a tantalising waft of hops, and a pleasingly bitter finish, but that's about it. Not bad, but a bit flat.
Week 147 - Pale Fire (Pressure Drop) I've got a lot of time for Pressure Drop. This was the first of their beers I had, courtesy of @LondonBeerLab. It's really, really good. Incredibly fragrant - my mouth was watering just from the waft as I poured it.
Week 148 - Arctic Tern (From The Notebook) St Austell Proper Job is one of my favourite British style IPAs, and this is sniffing round the same territory. It's got a big, almost floral start, then it kind of hides for a bit, then it pops out with a whalloping great bitter finish.
Week 149 - Axe Edge (Buxton) Massive. That's not mucking about, is it? It's awesome, for sure. Errs a little on the boozy side for me, so it doesn't quite get top 3. Damn close though.
Week 150 - Tiger (Everards) As a Leicestershire boy, I've been looking forward to this. When I was little, Ruddles and Tiger were the only beer brands I knew. Dad drank Ruddles. Tiger's not my favourite Everards - that'd be Sunchaser - but it's a bit of a classic.
Week 151 - Steam Lager (Redwell) Bit on the lively side. Overwhelming fragrance of unicorn tears when pouring. Not your average lager by a chalk and a half, and I like this style a lot. Is there an official count of small-breweries-per-county anywhere? Norfolk must be giving Yorkshire a run for its money.
Week 152 - Oracle (Salopian) 'Citrusy' is the go-to description for US-hopped beers, but this is very specifically Lemony. Really well balanced. Sessionable, hop-forward but not blisteringly bitter. Apparently they have this on tap at @povaults.
Week 153 - IPA (Loose Cannon) Smells, surprisingly but not unpleasantly, like Wham bars. I like this a lot. Incredibly dry, long-lasting bitterness. Fantastic sweet/bitter combination. I knew a girl like that once.
Week 154 - Long White Cloud (Tempest) More fragrant and juicy than in-your-face. Very much enjoying the less aggressive, more fruit and pine Pale Ales this summer. Brewdog's Hop Fiction and this one, for example.
Week 155 - Jack Brand Dry Hopped Lager (Adnams) As a fan of both Adnams and craft lagers, I found this vaguely disappointing. Not enough Pilsner maltiness, or bitterness from the hops.
Week 156 - Graffiti IPA (Firebrand) Very nice, but weirdly unremarkable. Decent malt sweetness coming through, which offsets the hops nicely
Box 14
Week 157 - Standard (The Cronx) Bit lively, this. Lost about a quarter of the bottle in the pour. And it's making me burpy, almost to the point of discomfort. Wasn't sure about this to start with, but there's a lovely deep malty session bitter hiding under all the fizz. I bet it's brilliant on cask.
Week 158 - Half Mast (Siren) Big fan of Siren. They recently started selling Undercurrent in my local rather than Sierra Nevada. And I remember having Half Mast at the Holborn Whippet with @bladkin and @drewhird a good while ago now. Where to put this against Kernel Table Beer? I reckon this has the edge - it really does give a lot of fully fledged IPAs a run for its money.
Week 159 - IHL (Camden) I love these Pale Ale / Lager hybrids. Williams Bros Caesar Augustus was the first one I tried, but this IHL is probably the best. Deeply flavoured, amazingly drinkable. A classic.
Week 160 - The Smoked Brown (Anspach & Hobday) Never mind the equinox; autumn officially starts with the first brown beer of your #beerbods box. I'm a fan of Anspach & Hobday. An unexpected highlight of my first trip to Bermondsey in January. This has been smoked to within an inch of its malty little life. Bit rich for my taste, and reminds me a bit of when I bit my tongue one time.
Week 161 - Cobbles & Clouds (Wiper & True, #BeerBods collaboration) I didn't used to like Saisons, but BeerBods taught me to love them - they're one of my favourite styles now, and there's one in my top 3. Since my Damascian conversion, there are a few standouts: Savour Finesse. Ilkley Siberia, Partizan Lemongrass. And now this one. I've been enjoying NZ-hopped Pales this summer, and they're a great choice for a Saison. Yeast-forward, but not banana-foam-sweet-flavoured. Top notch.
Week 162 - Wolfie Smith (By The Horns) I still don't understand the difference but I'd definitely have put this in the "Red IPA" rather than the "Amber Ale" camp. Grapefruity bitterness right from the get-go. The malts get to give a biscuity nod in the finish, but it's a cameo.
Week 163 - Tank 7 (Boulevard) Had been looking forward to this one, and it's bloody good. If I'd had it years ago, i'd never have been so reticent about saisons. Doughy, spicy and clean as a whistle.
Week 164 - Mud City Stout (Sadler's) Ooo, now you're talking. Just a touch of smoke and liquorice in there, enough to make it interesting. And really smooth.It goes very well with this last slice of the Boy's 2nd birthday cake. Chocolate, with smarties on, thanks for asking
Week 165 - Hook Island Red (Five Points) A lot going on here - some hefty flavours kicking about. Mine also has a few things floating about, as it happens, so it's a little chewy. Tastes great though. The rye gives some oomph for the hops to stand up to. Lovely.
Week 166 - Midnight Bell (Leeds) I know I say this every time we have one, but I love a mild, me. Understated, unassuming and executed with style. Solid take on a classic. A mild-inspired reverie of a Proper Pub with an open fire.Broken by The Wife proudly demonstrating how loud she can play Lady Gaga
Week 167 - Neu (Orbit) I've tried a few altbiers over the last few weeks, and not really been taken with them. They put me in mind of bad brown beer from a can in the nineties, like Tetley or something. But this is the best of that small sample. I do really like the styling on the Orbit bottles though. Been looking forward to opening this on looks alone
Week 168 - Blackfriar (Inveralmond) Been getting a taste for the Wee Heavy, mainly due to Brewdog twists on the style. Good to try one that's more straight up: this is spicy and deeply caramelly. It's like mince pies. I thought about following this with the Dogma I have in the shed, but I appear to be a bit sleepy now
Box 15
Week 169 - Wild Goose Chase (Wild) Only had two Wild beers before. One I loved, the other I couldn't finish. Intrigued by this one. Aaaand the verdict iiiis…. I literally have no idea. It's not actually as sour as it smells, if that makes sense. I think I liked it. Not entirely sure though. I fought the beer and the beer won.
Week 170 - Jack of Clubs (Wild Card) Oh, get in. This is spectacular. Spicy mince pie nose, tastes of pontefract cake and Elastoplast. These are good things. A crazy amount of flavour for <5% too. Big fan.
Week 171 - Rye Pale Ale (Liverpool Craft Beer Co) I've enjoyed every Rye beer I've had to date. They're Earthy. Not 8-ball good, but very good nevertheless #catchup
Week 172 - Export Stout (Boundary) Not my usual poison, but that's why we love our Thursday nights. Surprisingly quaffable for a 7% stout. Was expecting heavier. Bit over-carbonated (burp) but very drinkable, even at 7%
Interlude: 12 Beerbods of Christmas 2015
Wild Sleeping Lemons Well, that's unexpectedly uncontroversial. There's a flavour in this I can't quite place. Lemons, maybe? When life gives you lemons, cover them in salt and use them to make beer. I'm almost disappointed I like it. Sellouts.
Great Heck Black Jesus Holy mother of what the emeffing hell? That's huuuuuuuuuuuuuuuge. I love a Black IPA. Windsor & Eton Conqueror was (briefly) in my top 3 This leaves that standing though
Rooster's Baby-faced Assassin Lists 'Soft Yorkshire Water' as an ingredient, which has amused my Mum. I like this a lot, but apart from the name, I'm struggling to see the Christmas connection. It's got a bit of oomph.
Thornbridge/Wild Tart That's… actually great. I wasn't expecting to like it at all, but it's really special. Aptly-named,this. Tart. Not In-Your-Face Sour.Tartness that works brilliantly with the more usual Pale Ale hop notes. #12beerbodsofchristmas probably the best sour ale I've tried. Lovely tart/hop balance.
Brew By Numbers 11|03 Session IPA Mosaic I have a lot of time for BBNo, and this is right up my street. This gives my beloved Dead Pony Club a run for its money in the hops:ABV department. Out-hops DPC at almost the same ABV, with an extra dry biscuity finish to boot
Sam Smith's Chocolate Stout this got lost somewhere in the shed.
Hiver The Honey Ale Huge honey waft, but not overpowering or cloying sweetness and a nice bitter finish
Hastings Handmade 13 Slovenian India Brown Ale Didn't get the hops for the first few mouthfuls, but it's got a nice bitterness now I'm a few gulps down.
Harbour Doppelbock
Left Hand Milk Stout Nitro Oddly refreshing to have a bottle of beer that doesn't insist on a careful pour. Oooo that is gooood. Barely any bitterness at all - sweet and smooth, like chocolate milk. It's half gone already. This is in a similar vein to the Waen Snowball from last year's #12BeerBodsOfChristmas - basically a dessert made of booze. Gorgeous.
Ilkley Mary Christmas Superchristmassy version of the beer we had all the way back in Week 7. Mulled wine spices, but not overpoweringly sweet. The Wife is watching Love Actually. Send help.
Wiper & True Plum Pudding Porter Gorgeous, rich, sweet with a decent bitter dryness
End of Interlude
Week 173 - Dubbel (Savour) Finesse was a Top Three for a while, and the beer that turned my head to saisons. Let's see what you've got for me today… Excellent. Less yeast-forward than I was expecting, huge rich chocolate and toffee flavours. Yum.
Week 174 - Barnsley Bitter (Acorn) Not much can beat a Yorkshire bitter done right.
Week 175 - Atlantic White (Brains) Clean, and hopped to the nines. Ridiculously drinkable for 6%. Not getting loads from the yeast, but enough to give it a nice balance
Week 176 - Icelandic Toasted Porter (Einstock) First #beerbods of my 40s. Been getting into porters recently, but not keen when they're over-cooked. This is a good one; understated licorice and toffee. Slightly salty. Accidental food pairing discovery: goes well with marinated anchovies
Week 177 - 1845 (Fullers) A traditional heavyweight like this demands traditional heavyweight glassware https://t.co/vTH5xuorgL Doesn't get more trad than this really. Solid.
Week 178 - Benchmark (Bedlam) Interesting take on a traditional Best. Something something a bit extra in there. Bubblegum and biscuits.
Week 179 - Hophead (Dark Star) I love Hophead. I fondly remember a very lovely pint of it at the Wenlock Arms three years ago. Eight months after that I also had an excellent pint of it at the Evening Star in Brighton. I don't think I've seen it on draught anywhere since. And that's all from Tismey's Weirdly Specific Beer Recollections for this week. Anyway, this is maybe my favourite Dark Star, after their amazing Imperial Stout (obvs)
Week 180 - Ambrata (Menebrea) Since The Boy came along we have been to Zizzi's a lot, mainly because they have crayons. They also have the other Menebrea beer. This one is Maltier than the average lager, moreish and the right amount of carbonation.
Box 16
I got extremely excited when I opened this box. It is, probably, the best single box in the history of BeerBods
Week 181 - Kill Your Darlings (Thornbridge) The second BeerBods Vienna Lager in as many weeks. I'm not sure I really understand the difference between them and altbiers, but of teh two, I prefer these. And of the two of these I prefer this.
Week 182 - Himalayan Red Red Rye Ale (Big Hug) I'm fond of a Rye ale, so have been looking forward to this. Has a very satisfying pour to it. This is top-notch. The rye brings a spiciness that offsets the hops beautifully, and it's got just the right carbonation.
Week 183 - Delta IPA (Brussels Beer Project) actually less Belgian than I was expecting. Lovely yeast / hops balance though.
Week 184 - RAW (Moor Beer Company) Oh, this is spectacular: showing off the rounded fruitiness of hops rather than astringent bitterness. Really excellent, and knocking on the door of my top 3. It's got the requisite biscuityness that a best bitter demands too. Superb.
Week 185 - Plum Porter (Titanic) I have been looking forward to this chap. I'd say this is my second favourite Plum Porter. The rich / sweet / bitter in this really is perfect. Even stands up to mini eggs. Apparently I really like Plum Porters. Proper hits you in the face with its plums. As it were.
Week 186 - Azimuth IPA (Hardknott) Oh wow. This is unexpectedly juicy. Sweetly juicy, nice dry finish. Lovely.
Week 187 - Ax Man (Drygate) I like Rye IPAs. Favourites are Bullfinch, Beavertown 8-Ball and Brewdog Albino Squid Assassin. This is up there with those favourites, I reckon. Spicy, nicely-hopped, good carbonation. Yum. A tasty example of a style that is fast becoming a favourite of mine.
Week 188 - Hipster Ale (Evil Twin) Very nicely done, this. Sweetly juicy like an orange, bitter finish accumulates as it goes down. Not big, or clever, but remarkably well put together.
Week 189 - Cwtch (Tiny Rebel) Quite a lot going on in this one, lots of big flavours to chew on. I bet it's great on tap. Well-rounded red ale, huge flavours for the ABV
Week 190 - Brighton Bier (Brighton Bier) I have to be up at 4am. Is this a sensible idea or no? Either way, this Brighton Bier is extremely tasty. An extremely sessionable Pale Ale with the malt backbone of something much stronger. 4% is a responsible adult ABV, right? Always drink beers the same ABV as the time you have to get up, kids.
Week 191 - Farmhouse IPA (Lervig) These IPA /Saison hybrids are currently my favourite beery thing, and this is a really good one.
Week 192 - Hopocrisy (6 Degrees North) Instead of being part of the 9pm Twitter tasting, I ended up in the 6 Degrees North Glasgow bar preparing for #whiskyadventure. Unfortunately, they didn't have Hopocrisy available, so we got acquainted with the slightly stronger Hop Classic, which maybe edges this spectacular, and very drinkable, Belgian Pale. But not by much, honestly.
Box 17
Week 193 - Dubbel (North Union Brewing) Found it in the shed over a year later. Delicious. Cold brew coffee and spices.
Week 194 - Beast of a Midlands Mild (Twisted Barrel) I am assuming, unless there is another brewery in FarGo village that @TwistBarrelAle are the lot I keep hearing about. Obligatory tweet about how I like milds and they remind me of working at the Barley Mow in Loughborough in the late 90s. This is rather good. Rounded, spicy, smooth, pleasingly bitter. Vanilla is nicely understated. Honestly, it's a while since I went further into Coventry than IKEA. Have been convinced I should make the effort, and I have realised I don't even need to go on the Ring Road.
Week 195 - Why Kick A Moo Cow (Arbor) You can smell the tropical fruit from Why Kick A Moo Cow from the second you pop the cap. Huge aroma. Incomprehensible amounts of flavour in this. Very little bitterness, just fruity sweetness right through. Loaded up with fruit, but sweeter than the usual citrus Pale Ale…
Week 196 - Steamy Wonder (Mondo) Maltier and sweeter than previous steam lagers I've had. Wears its ABV well.
Week 197 - 69 IPA (Lovibonds) The label is very informative. Apparently there are some American IPAs that are considered "hoppy". A belting IPA - rich and resiny, earthy bitterness. Good.
Week 198 - Scaramanga Extra Pale (Gun) Wow, this is hugely unexpected. Not bad, but a surprise. Like when you drink from you cup of tea and it turns out its coffee. So, now I've adjusted myself, let's try again. Lots of flavours here that I associate with wheat beers, or Belgian Blonde beers. Crisp and slightly doughy.
Week 199 - Salty Kiss (Magic Rock) Sharp sour, with a tangy finish. Really lovely.
Week 200 - Green Devil (Oakham) My Dad used to teach in Oakham, and I have made a point of trying Oakham Ales whenever I see them since they were a good choice back in week 30. Not had this one though. A good punchy IPA. Plenty of tropical fruits. Surprisingly mellow on the finish too. Good stuff. And 200 beers! Congratulations #beerbods!
Week 201 - Pils (Shindigger) Wonderfully flavoursome and perfect pils bitterness. Shame the weather wasn't playing ball.
Week 202 - IPA No 2 (Howling Hops) Very tasty, Punk-esque IPA
Week 203 - 01|06 Motueka & Lime Saison (Brew By Numbers)(*) I love a BBNo saison - favourite up to now is 01|02. I also recently discovered the joy of a lime saison courtesy of @BlackIrisBrewer's brilliantly-named Lime Gentlemen Please. Boom - straight into the top 3. I don't reckon they get much better than this, honestly. I love how BBNo get the "extra" ingredients so right, just accentuating the hop/yeast character. The 01|02 is similarly restrained.
Week 204 - Shoreditch Blonde (Redchurch) Not had an honest-to-goodness Blonde ale in some time, I now realise. Thanks for rectifying the oversight.
Box 18
Week 205 - Beartooth (Fourpure) Delicious hoppy caramelly brown ale.
Week 206 - Tropic Blunder (Buxton) Tasty, but I reckon they could have got away with more pineapple. I tell you what though - by making a beer with actual fruit in, #beerbods have saved me from having to come up with spurious fruit synonyms
Week 207 - Sleeping Lemons (Wild) When we had this at Christmas, I seem to remember liking it eventually. Still a double-take on the first sip, but have been absent-mindedly enjoying this since then. One of the Wild Bunch that I enjoy
Week 208 - Boris Citrov (Sadlers) decent citrus-laden Golden Ale. Could stand more orange. -
Week 209 - East India Pale Lager (Freedom) Have had a couple of Freedom pilsners - Liberty, and Pioneer. This, I think is my favourite of them. I enjoy a lager/IPA hybrid. Williams Bros Caesar Augustus set the standard for me. So this sits slightly more on the lager side of that line, with the hops playing more of a supporting role. Not discernibly IPAish for me, but a crisp hoppy pilsner nonetheles…
Week 210 - Summer Saison (Runaway) This Runaway Saison is excellent. I have spent the best part of 8 hours on buses today, so I deserve this. As a pairing, I recommend haddock and chips and extreme tiredness. The low ABV makes this a very drinkable saison. Crisp, not in your face with the yeast.
Week 211 - Crack of Dawn (Late Knights) Real shame about the demise of Late Knights. @bladkin and I only made it to the Hopsmiths that one time. Anyway, I have the Crack of Dawn. Wasn't sure about this to start with, but it's a grower. Solid biscuity Pale, with a decent hop bitterness
Week 212 - Life & Death (Vocation) Standard issue Juicy Banger. Not a criticism.
Week 213 - Puffing Billy (Wylam) I discovered Wylam beers on a bleak holiday in Northumberland a couple of years ago. Dognobbler appeared to be a local favourite. I presume that was entirely down to how much fun it is to order a pint of Dognobbler. Anyway, it's October at the end of the week, and this is ushering in the smells of autumn. Smoke and treacle. For all its smokey toffee goodness, it's a remarkably light touch. I guess that's why it's a smoked bitter.
Week 214 - 2/6 Project Saison (Harbour/Wild/Siren/Beavertown/Cloudwater/Arbor)- If I spill this turmeric saison on myself is it going to stain my clothes yellow? That's quite special. Subtle and aromatic up front, restrained clovey yeast funk reserved for the finish. No bananas. subtle, less yeast-forward saison. Really delicious.
Week 215 - 2/6 Project IPA (Harbour/Wild/Siren/Beavertown/Cloudwater/Arbor) showing off its Motueka nicely. Very welcome step on from super-astringent grapefruity IPAs This edges out last week's by the tiniest of fractions for me. fruity and fragrant, easy drinking IPA. More balanced than the usual hop bombs.
Week 216 Crafted Black IPA (St Peters) Along with Saisons, Black IPAs are the beer style that BeerBods made mine. And this one is gooood… Had a couple of of under-hopped black IPAs recently, which kind of defeats the point (and makes them more like porters). Not a problem here. Decent. Toasty liquoricey, dry-finishy.
Box 19
Week 217 - Nightmare on Bold St (Mad Hatter) had been looking forward to getting into this on an appropriately wintry evening. Bit disappointing. Too sickly for my tastes, and an unpleasant flavour in the finish I can't quite place.
Week 218 - Best Bitter (Bathams) Oh my, this Batham's Best is an unexpected treat. a trad best bitter of rare quality indeed.
Week 219 - Pale Ale (Toast) Deliciously understated.
Week 220- Persuasion (Electric Bear) An interesting beast. Pure classic golden ale, but with a touch more hoppy bitterness. A well-put-together golden ale with a bit more bite than the usual
Week 221 - Milk Shake Stout (Wiper & True) I've never had a bad W&T beer, and Milk Shake Stout is no exception. Lacking a bit of condition, this, but tasty nevertheless. Velvety, chocolate and vanilla. Sweet, but not cloying. Lovely. Goes well with @JudithSismey's banana cake
Week 222 - Elvis Juice (BrewDog) I was not keen on the prototype versions of this but I think they nailed the final release. Full disclosure - equity punk.
Week 223 - Twelve Days (Hook Norton). First proper rich dark spicy beer of December. 'Tis the season. Had it with a mince pie.
Interlude: 12 Beerbods of Christmas 2016
Stroud Ding Dong Mulled Porter A bit of cognitive dissonance having these flavours and aromas in something not-warm. Once you get past that, though, this is delicious. Great cinnamon waft. Flavours skilfully balanced here. Not overwhelming
Twisted Barrel Dark Night Rises Twisted Barrel are the closest BeerBods-featured brewery to my house. They do Belgian styles very well. This has some depth to it. Rye and the clovey yeast, and the spices layered on top. Complex, but not difficult. Playfully carbonated. Ace.
Kew Green & Black. Lovely, dry, dark chocolate bitterness. Goes very well with cherry and almond sponge.
Fyne Ales Christmas On The Beach I've become a big fan of NZ hops this year. My 40th birthday beer in January was a Pacific-hopped Pale Ale. I like that they chose to rack it on Kiwis. But if they ever make a French-style lager I'm not going near that. not traditional, but I'd get into this on xmas day at the point I was fed up of sherry and mulled wine. Around 1pm. Excellent uberhopped lager. Everything great about NZ hops. Piney and fruity and yum.
Salopian Holly Bush I never met a Salopian beer I didn't like. This has stone fruit sweetness, with some back-end hop action.
Wylam Jakehead In no way Christmassy, but this is a top-notch US-style IPA. Bit chewy, mind.
Hobsons Chase this makes for a subtler combination than the old barrel-aging gambit. Whisky flavour present, not just wood & soil. This is lacking condition for me - flat and a bit lifeless, which is a shame because the flavour is all there. Apparently I had one with a duff cap.
Fourpure Northern Latitude Love a rye ale, this has an extra brown-sugar sweetness to winter up the hop kick.
Delirium Christmas Ale Silent crap holy crap that is amazing.
Teme Valley Hearthwarmer drank this almost a year later - was looking for something malty for a pie and found this in the shed. But it's quite tasty so now have to find another bottle of something malty
Wiper & True In The Pines Wiper and True continue their unbroken streak of Beers I Like. Really astonishing how they nail every style. Storming amber ale tonight. Chewy caramel malt backbone, hopped to the eyeballs.
End of Interlude
Week 224 - Arise (Burning Sky) solid entry into the juicy banger market
Week 225 - Chocolate Stout (Samuel Smiths) This is actually the bottle from last year's #12BeerBodsOfChristmas, which got lost in the shed. It has aged well. Beautiful smooth, chocolate stout. Just sweet enough, balanced with the dark chocolate. Tasty. Onto this year's bottle now. Might be my imagination but maybe a little harsher on the finish?
Week 226 - Maris Otter Vintage Ale 2013 (Stroud) Goes exceptionally with Christmas cake and Caerphilly
Week 227 - Undercurrent (Siren) This is the Siren brew I'm most familiar with, as they have it at the pub round the corner. I'm a fan - a modern Pale Ale, but with less astringent bitterness and a fuller mouthfeel.
Week 228 - Dubbel (Westmalle) Classic Belgian Dubbel, deceptively non-boozey for 7%. Served a bit cold due to me leaving it in the shed. Has anyone ever tasted the yeast separately, as the label suggests?
Box 20
Week 229 - Embra (Stewart's) Really rich and sweet fruity/caramel, very little bitterness. Pretty great. I've been chomping my way through a massive panettone, but I might get on the cheese train. Yep, cheese is a good shout for this. I went with a Wensleydale, like you have with Christmas cake. Rich and flavourful. Not sweet, exactly, but very not bitter.
Week 230 - Smoky Pale (Gun) I've had smoked Lagers before, but they've often tasted a bit like I've bitten my tongue: like a slightly metallic aftertaste. This is much more subtle, and actually pretty delicious.
Week 231 - Nico (Orbit) My first Kolsch was Brewdog's No Label. I reckon this is better. I'm in the fence with this. It's interesting, but I've had better lagers. Mine's completely flat too. Good depth of flavour, and I think I could get to quite enjoy the style, but this is flat and a bit lifeless
Week 232 - Butty Bach (Wye Valley) Hand-picked this beer for my damn wedding yo. Bit of a classic.
Week 233 - South Island Pale (Saltaire) Very bitter, and not much of the character I usually associate with NZ hops.
Week 234 - Hmmmm (Twisted Barrel) I'm a huge fan of Twisted Barrel. This Munich Pale is a variation on Mmmm, and I think is slightly better. Deep caramel backbone propping up the fruitier hops.
Week 235 - Sanda (Lock Fyne) Black IPA is one of the styles that Beerbods introduced me to, and this is decent. Subtler roast malt flavours than you often find. Superbly balanced, much less aggressive than others, with lingering liquorice
Week 236 - Curious IPA (Curious Brew) Deeply flavoursome take on a classic English IPA. Lovely
Week 237 - Weizen (Windswept) Loads of Clovey Bananaey aroma, great bubblegummy finish. I prefer a bit more condition, but the flavour is immense.
Week 238 - XPA (Five Points) Was not expecting so much flavour from such a pale, relatively low-ABV, beer. Really Excellent.
Week 239 - Cocoa Wonderland (Thornbridge) You can smell the chocolate when it pours. Nice dark chocolate bitter edge to the sweetness.
Week 240 - Dag (Ægir Bryggeri) I'm glad all the other BeerBods are as excited by the Massive Can Hole as I am. The orange peel really comes through in this for me. A slightly sweeter citrus to the usual grapefruity Pale Ales
Box 21
Week 241 - Ancho Dark Lager (Tempest) Wasn't getting the ancho, and then suddenly…. oh, there she is! Slow chili accumulation. Fruity body handles a chill down well, but could do with more… something
Week 242 - Comfortably Numb (BAD Co) Good bitterness, but not getting a lot of flavour. Pretty lifeless too. Have had a lot better.
Week 243 - Cranachan Killer (Fierce Beer) I was very sceptical about a Cranachan Pale Ale, but this is surprisingly excellent. I once spent a week in a B&B in Fort William that did excellent Cranachan for breakfast. Most other guests left their whiskies untouched. I might have helped tidy up #minesweeping. A perfect balance of tart/sweet/bitter. Really enjoyed this.
Week 244 - Big Chief IPA (Redemption) I'd had this before, but appear to have been very stingy with my rating. Classic London IPA.
Week 245 - Into The Void (Marble) Unassuming for the ABV, hopped like an IPA. It is stinging a little on the bit of my lip I cut at band practice, mind.
Week 246 - Python IPA (Little Valley) Super bitter, caramel sweetness from the malt. Exceptionally drinkable for the ABV
Week 247 - Sputnik (North) Sun went in a bit too quickly to get the full effect of this. It clearly demands sun. Quaffable.
Week 248 - Haven (Bude) Bit malt-heavy for my tastes
Week 249 - Botanic (Kew) The Wife says "blueberries". She hasn't tasted it, she's "just trying to be helpful". Was very not sure about this to start with, but it's grown on me plenty. Malty depth, juniper aroma, good bitter finish. Juniper flavour accumulates. Really good by the end of the bottle
Week 250 - Keller Pils (Lost & Grounded) Fathers Day. Crazy sunshine, barbecue, family, cricket and a Honey-nosed pilsner that did not last long.
Week 251 - 24 Carat (Rebellion) Love this. Proper English IPA - caramel malt sweetness up front, huge bitter hop-hit finish.
Week 252 - Battersea Rye (Sambrook's) Two power cuts so far this evening, so welcome to #beerbods in the dark. (As Evil Gordon pointed out, this is "Apt for a beer with its own power station. Well, apt or ironic"). This is serious. Spicy and woody, dry and almost-but-not-quite-unpleasantly bitter. Not one for sessioning.
Box 22
This box contained two extra beers. I paid an extra £3 to get both Coffee and Tea for week 264, and it also contained a lovely present to celebrate 5 years of BeerBods
Week 253 - Vital IPA (Victory) It has been warm today, so this Vital IPA is right on the money. Heavier on the bitterness than the tropical fruit Um Bongo-style juicy bangers, which is suiting me just right this evening. Basically inhaled that.
Week 254 - Summer Wheat Ale (And Union) Found this in the shed around Week 293. Bubblegummy banana beer of the type I traditionally hate, done well enough to quiet my prejudice.
Week 255 - Myrcia (Buxton) Fruity and light, perfect for an afternoon in the garden when the Boy won't give me my damn book back.
Week 256 - Honey Ale (Hiver) This week's #BeerBods comes to you from deepest North Wales, where it is unsurprisingly wet, and a beer like this is most welcome. According to my notes this was previously one of 2015′s #12BeerBodsOfChristmas. It's a good 'un. They've not skimped on the honey, have they? It's there from the initial aroma right through to the finish. Amused by how we're all so astonished it actually tastes of honey. Shows how much these kind of ingredients are often a gimmick. Honey lifts a style that I can usually take or leave
Week 257 - D'être Ultime (Boundary) First up, this has the LOUDEST carbonation of any beer I have ever had. Snap, crackle and pop. This is the second Saison I've had this week that, for me, is missing the characteristic flavours.I hope i've not gone yeast-blind It's got all the other boxes ticked. Light, refreshing, lively. But sorely lacking any funk
Week 258- Fired Up Donkey (Brewheadz) I do love a Rye IPA, and this is a great example of why. Classic IPA fruitiness, but with a spicey kick. Great. This is up there with 8-Ball, I reckon. Does anyone happen to have a can of that lying around so we can do some science on it? Well-put-together Rye IPA from an excitingly new outfit
Week 259 - Bitter Brummie (Birmingham Brewing Co) Oo, really not sure about this at all. I enjoy a solid Best Bitter, but I'm not enjoying this at all. Too gassy, and something vaguely unpleasant in the aroma and finish
Week 260 - Pierre Bleu (Bluestone). Emeffing Five years! And what a beer to do it with. #beerbods taught me to love a saison, and this is pepper and spicy and nutty and clovey. I'm proud to have been bodding since day one, and it's been a privilege to watch this thing grow with Matt & Gordon and you lot.
Week 261 - Hibernation White IPA (Big Hug) I've had a couple of IPWs previously that have really nailed the balance. This one is light on the W for me. Nice light IPA, wheat characteristics not hugely obvious though.
Week 262 - à BLOC Blonde (à BLOC) Excellent. in my ridiculous glass, and the penultimate Twin Peaks. https://t.co/CczTxsqGK7 A crisp refreshing Blonde is very enjoyable even if you don't own a bike.
Week 263 - Arsenal Pale Ale (Hop Stuff) Pretty generic APA, which gets less distinguished by the mouthful.
Week 264 - Saturn + Saucer / Pamoja (Hillstown) I have both coffee and tea. I also have work in the morning, so I'm going early. So my experience of fruit teas is that they always smell nice and don't really taste of anything. Between Saturn + Saucer and Brewdog's Pump Action Poet, I am coming to the conclusion that peaches are not a beer flavour I enjoy. There's a pleasing bitter finish to it which is right up my street, but I just can't get past the peaches. The Pamoja, however, is excellent. Somehow spectacularly bridges the massive gap between IPA and stout. Blinding. Deeply flavoursome. Light and fruity hops, deep and complex roast coffee and grain
Box 23
Week 265 - Old Ale (Harvey's) Trad AF, lots of dried fruit sweetness. Pretty heavy, but cut through by a slight bitterness
Week 266 - Beyond The Pale (London Beer Factory ) Ooo, it's one of those big canholes https://t.co/Ptrsu6GiVq Big canhole, you betcha! But anyway, the beer. Better-than-average hop-forward Pale with serious Mosaic action.
Week 267 - American Wheat (Wild Horse) Unexpectedly lovely. Clean and light, with loads of hop aroma, but light on the bitterness
Week 268 - D0wnalong (3/9 Project)
Week 269 - Sour IPA (3/9 Project) On the lively side. Needed a second glass to hand! Great once it settled down though. Tastes like sherbert oranges. Is there such a thing as sherbet oranges? Feels like there should be.
Week 270 - Super Saison (3/9 Project) (*) Exceptional, smooth, amped-up Saison. Top 3 contender for sure.
Week 271 - Cherry Chocolate Porter (Lakehouse) Bitterness from chocolate, sourness from cherries. Bit lacking condition, but lovely.
Week 272 - Dubbel (Tickety Brew) Some good winter spice in this - cloves and cinnamon and chewy caramel. Weirdly less boozy than I was expecting.
Week 273 - Cali-Belgique (Stone Berlin) It's my first #beerbods with 280 characters. And with this little fella https://t.co/uGBltHJC3Y. Ozzy is 3 days old, and put it like this - I heard a lot of cricket last night. So a 6.9% Belgian IPA is going to go one of two ways. I went through a phase of these Belgian IPAs last year so I've had the Cali-Belgique before. I found it overly sweet that time, but I'm really enjoying this. This is fruity Belgian up front, bitter American on the finish.
Week 274 - Three Hundreds Old Ale (Chiltern)
Week 275 - Effra Ale (Brixton) Bit late joining in tonight; we had to turn the house upside down looking for Blanket Bear and Little Monkey (they were under the cushion I was sitting on). Falls firmly between two stools and ends up being fairly unremarkable as a result
Interlude: 12 Beerbods of Christmas 2017
Runaway Winter Saison Have had this before (it was in the Saison box), and I'm a fan. Doesn't mess too much with the style, but has its own character. A slightly heftier take on a Saison. Light on funk, heavy on the bitterness. A good start!
Moor Smokey Horyzon Pulls off smoky in a way few non-stouts manage. The rye spice is mellowed, the smoke lingers. Paired exceptionally well with blue cheese.
Wiper & True Mimosa Gorgeous. Sharp and refreshing.
Redchurch Table Sour Got behind with my #12beerbodsofchristmas due to extreme baby tiredness. Nice to ease back in with this low ABV low-key sour
Mad Hatter Cranberry Sauce More tart than Lilo Lil. Less convincing than the Redchurch, but makes the case for sour beers amongst Xmas excess.
Anchor 2017 Christmas Ale
Wild Beer Co Smoke N Barrels I think the Tim vs Wild Beer Co honours are currently even-stevens, so very interested to see what this evening's #12BeerBodsOfChristmas is like. That's spectacular. If this was normal BeerBods that'd go straight in the top 3. Complex but not difficult, hugely flavoursome but crazy drinkable. Blinding. Rich, fruity, smoky, slightly sweet, with a dry and bitter finish. Just amazing.
Tickety Brew Jasmine Green Tea Pale Ale
Kew Snowdrop Right, Ozzy is dosed up on milk and slumbering soundly for the moment at least. Let's #12BeerBodsOfChristmas! Slightly chocolatey, slightly liquoricey. Doesn't really commit. Hefty winter ale, with a dark chocolate bitterness. Bit trad for my taste, but well-executed.
St Andrews Christmas Tree Pale Ale bit of a shock first gulp, but it's a grower. Couldn't drink more than one though.
Harbour Chocolate Kolsch-style chocolate a bit too subtle for me.
Hitachino Nest New Year Commemorative Ale HUGE (dare I say almost too many) flavours. Blood orange, Christmas spices. A cracking finale to this year's #12beerbodsofChristmas.
End of interlude
Week 276 - Wu Gang Chops The Tree (Pressure Drop) Hits the spot after the Xmas food shop, which for reasons I don't fully understand we still have to do in person, like animals
Box 24
Week 277 - Plum Pudding Porter (Wiper & True) I've yet to have a bad Wiper & True beer, and that streak hasn't been broken today. Plum Porters are a narrow but fertile furrow to plough. Waen and Titanic's versions are amongst my favourite Evers. Not as rich in fruit as other plum porters I've had, but dark and velvety and delicious.
Week 278 - NZPA (Hawkshead) More alcohol bitterness, fewer floral notes than I usually associate with Pacific Pales
Week 279 - Stout (Big Drop) Has to be said, the decision to go with a 0.5% Stout this week was genius. I may not have managed anything more serious. Less sweet and less smooth than I'd expect from a Milk Stout. Very dry, very bitter. Black coffee and cigarette smoke. A ton of flavour for the ABV. Found the bitterness almost harsh at first, but it rounds out nicely after a few sips. Goes well with chocolate truffles too. I managed 3 days without chocolate and beer. Well done me.
Week 280 - Schrodinger's Cat (Atom) Ozzy has fallen asleep on my drinking arm and I can't reach my beer (Later) Pleased to report that he's moved. I am ridiculously uncomfortable, but can now reach my beer. It's a good one. Dialling down the ABV works well for this style. Impressed with this - fruity, with a bit of a hop-wallop, but without excessive bitterness.
Week 281 - Scotch Ale (Black Isle) Lovely. Deep, rich flavours, velvety head, smooth drinking, bitter chocolate finish. Hits. The. Spot. I'm a big fan of a wee heavy. So much flavour, but so smooth and quaffable. I'm assuming the faint whiff of baby sick is me, and not the beer.
Week 282 - Gunnamatta (Yeastie Boys) I can't speak highly enough of Gunnamatta, it's a favourite of recent standing. Yeastie Boys are consistently excellent in my experience. Gorgeous, citrus and floral.
Week 283 - Brew York, Brew York (Brew York) Capable, if undistinguished, USIPA
Week 284 - Howdy Ho (Electric Bear) Ozzy has actually let me sit down, unfettered, with my this week, so I'm just getting on with it while the going's good. This is rather nice. Good balance of richness and grapefruity hop finish. A bit moreish. Wasn't expecting to like this as much as I do. Not at all thin, nails the style and leaves a slightly smoky bitter finish. Ace.
Week 285 - Gadds' No 5 (Ramsgate) Solid take on a classic, with a pleasing woody finish. Would like to try this on cask.
Week 286 - Ferrous Red (71 Brewing) This reminds me of thin, fizzy music venue bitter, except it's a lager and therefore supposed to be like that.
Week 287 - Oz Bomb (Arbor) Oh, I can tell I'm going to wish I had a bigger bottle of this. Has a rather lovely waft of pineapple on the nose. Big fan of Arbor, and this is excellent.
Week 288 - Notorious BIPA (St Andrew's) My goodness that pours like tar. This is confusing me. Loads of liquorice, and a hint of smoke on the finish, but oddly uninspiring up front. Not as BIG as I was expecting for the ABV, but a decently put together example of a style I don't see enough.
Box 25
Week 289 - Shameless (Red Willow) Yesterday we got burgled. Today, Ozzy had his 16 week jabs and so is being a grump. I deserve tonight's BeerBods, if he'll let me drink it. Anyway this is a sterling cheer-me-up beer. Regulation Juicy Banger, terrifyingly quaffable.
Week 290 - Saison Du Japon (Hitachino Nest) Crazy lively, but I was prepared. Tastes exactly like I expected a Hitachino Saison to taste (this is a good thing)
Week 291 - Congregate (Unity) Belgian Pales can be a bit of a lottery in my experience- I went through a phase a year or so ago where I had some amazing ones, and some awful ones, with little in between. Let's see where Congregation (which I assume is named after the Afghan Whigs album) sits! It straddles the styles nicely, like a very tall hiker. Really clean, sharp finish.
Week 292 - The White Sow (White Hag) Extremely smooth and velvety, to the point of being a bit uninteresting. Missing a bit of bite until the last few mouthfuls.
Week 293 - Tired Eyes (Chapter) Thoroughly enjoyed this. Huge herbal honey nose, but a really balanced flavour. An almost meditative drinking experience. Lovely.
Week 294 - ESB (Runaway) Good example of the style. Unfortunately I don't enjoy the style all that much
Week 295 - Mr. Smith Gose To … (Thornbridge) Yep, pretty amazing. Salty, tart, sweet, all in balance.
Week 296 - Lorita Passionfruit Pale Ale (Amundsen) Ooo, it's another one of them big canholes. Light, very little bitterness, passion fruit offsets the hops nicely. With a big canhole.
Week 297 - Vermont IPA (Gun) I love a NEIPA. This one's less Lilty than I've had previously, slightly bitterer, and more peachy. Dangerously suppable NEIPA. Based more around stonefruit than the usual tropical fruit overload. Tasty.
Week 298 - Picnic Sour (Brekeriet) Perfect sunny-garden, post-paddling-pool-inflation beer. Tart and refreshing and light. Delicious.
Week 299 - Whiteout (Cromarty) Really pale, very light and drinkable. Kind of wish I'd gone early on it while the sun was out.
Week 300 - Snakecharmer (One MIle End) 300 beers, Mufferpuffers!