Bermondsey Beer Mile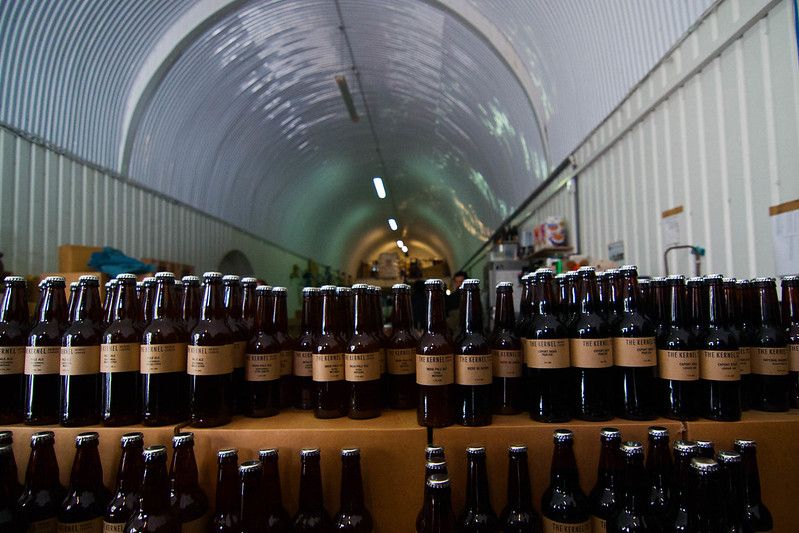 Kernel Bottle Shop
My birthday is in January, just long enough after the excesses of Christmas to usually be able to convince people to celebrate it with me. A couple of years ago an intrepid group of us attempted to pub-crawl from Brewdog Shoreditch to Brewdog Camden, taking in various craft beer pubs along the way. It was a fun way to spend an afternoon, although starting on a 16.5% Triple IPA may have been a tactical misstep in retrospect.
I had heard tell of the Bermondsey Beer Mile a number of times since Crawldog so it seemed like the perfect sequel. Some minor logistics and a 39th birthday later, #birberbeer was born.
##The Beer Mile
Bermondsey Beer Mile consists of seven breweries across six brewery taps, plus a bonus bar/bottle shop, distributed unevenly and inconveniently over roughly a mile of railway arches and industrial estates. It takes in three of the bigger names in London Craft Brewing, and some to watch out for in the future.
###Kernel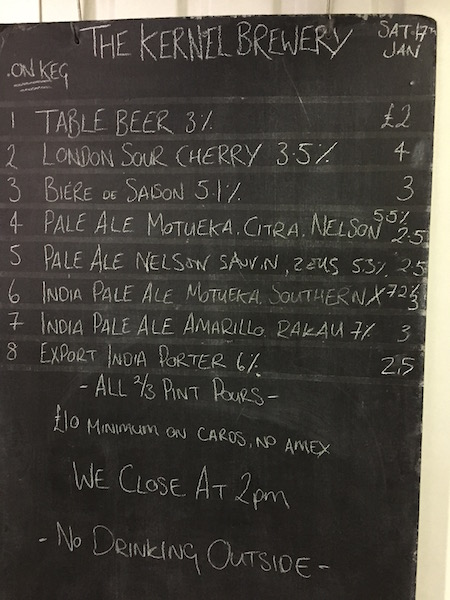 Kernel Beer Menu
Rather appropriately, Kernel is where this all started; the first brewery to open in the area (and one of the best in London) is smack in the middle of the Mile. Remember I said 'inconveniently' earlier? Saturday is the only day all the Taps are open, but Kernel closes at 2pm so you really need to start here to ensure you get to all of them in an afternoon.
Five of us met here at 12:30 and it was already packed. We favoured the Table Beer and London Sour cherry (at 3.4 and 3% respectively they make a good starting point as well as being tasty), and the flinty, moreish Saison (I'm a recent convert to Saison beers, and they seem to be in fashion in South London currently). There are numerous food establishments nearby, with which we utterly failed to get involved.
###Fourpure
Once we managed to get a seat, I could have stayed in Kernel for some time, but we were on a schedule so after picking up a straggler we headed to the bottom of the Mile, to Fourpure.
I once heard Fourpure's beers described as 'consensual' and I find it apt. They produce well-crafted, if unchallenging, takes on your usual core beer styles. They favour cans over bottles and the clarity of their beer is seemingly very important to them (we were firmly warned when we chose beers that hadn't been centrifuged). Our party split between the Brunel Brown Mild and the Southern Latitude USPA — which were both excellent — after having been warned off the Belgian Dark beer that had originally turned our heads The brewery is spacious, with room for a ping-pong table and also serves beer snacks (I got the last scotch egg).
We picked up another straggler here and then headed over to…
###Partizan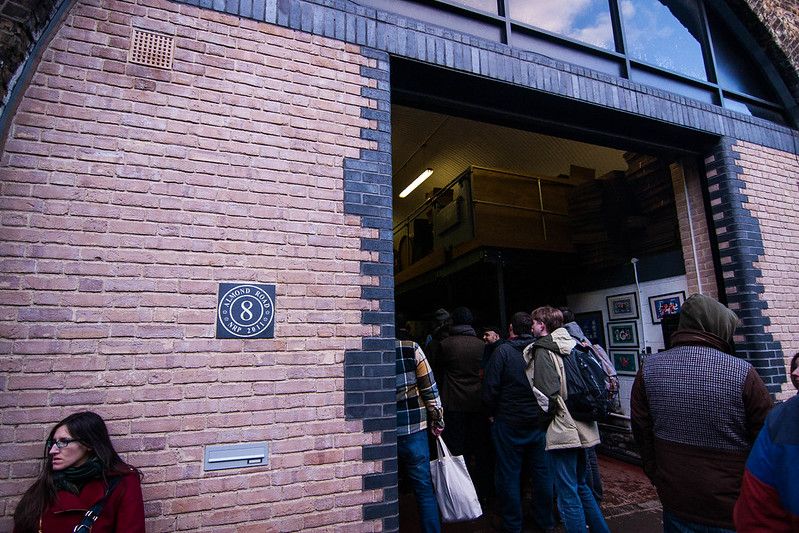 Partizan
Partizan is the stop on the Mile I was most excited about. All their small-batch, variously-hopped IPAs that I have tried have been amazing, and they do interesting things with other beer styles too.
The brewery tap is the smallest, and most outside, of all the stops on the Mile. The tiny indoors is decorated with distinctive Partizan artwork and the beer list is adventurous and eclectic. We variously plumped for the incredible Lemongrass Saison, the 10% Albatross Barley Wine and the Atomium, an interesting Belgian Pale Ale hybrid.
By the time we finished at Partizan we were cold, and hungry. So while two of our number headed off to family commitments the remainder investigated the delights of Bermondsey's fast food selection. If you try the Mile, I would recommend you remember to eat from the nice-looking places around Kernel.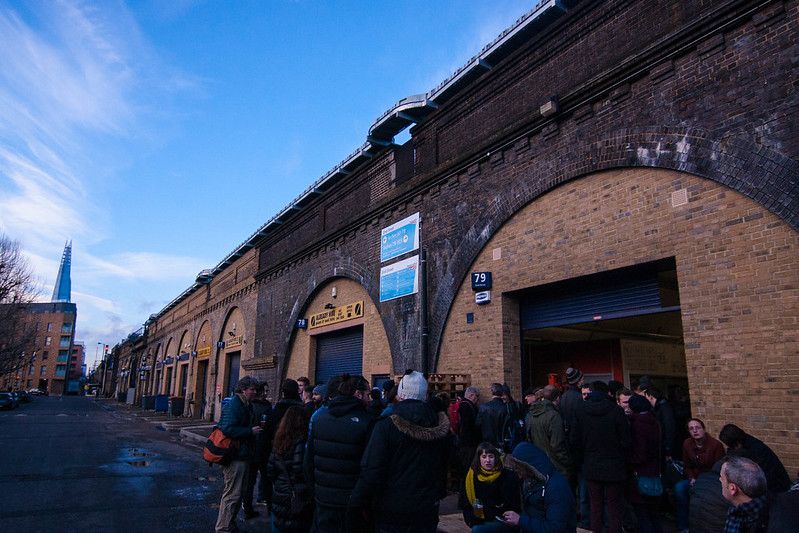 Brew By NUmbers
Brew By Numbers was the most crowded of the stops on the Mile, which necessitated further al fresco drinking in amongst the stacks of pallets out front. BBNo's Saisons and Pale Ales come very highly recommended, but my head was turned by the first Cask Ale on a beer menu so far - the 16|03 Red Ale 'Tap Coffee'. This turned out to be a mistake; the ale had a strange gritty texture as if it contained actual coffee grounds, and whilst not actively unpleasant, it wasn't a patch on the excellent 01|10 Classic Saison. Second lesson of the day learnt - if something specific is recommended, have that actual thing, not a totally different thing.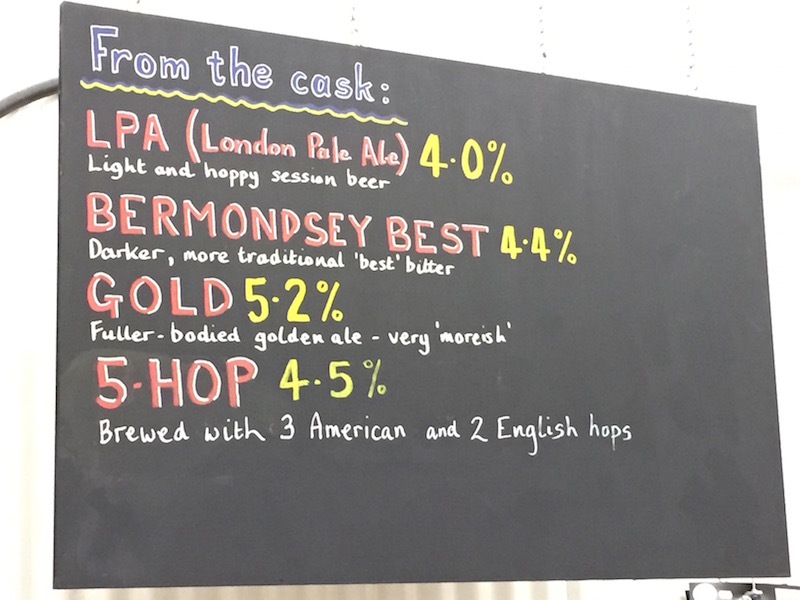 Southwark Brewing Beer Menu
Impending closing time dictated that we had to jump ahead to the end of the Mile, to Southwark Brewing (See? Inconvenient!). Southwark is the newest of the breweries on the Mile and the only one specialising in Real Ale. It's also the most family-friendly, serving coffee, milk (we were joined by 3-year old Dylan) and wine (his Mum came too) alongside their core range of cask ales.
As it was late in the day several of the barrels were on their way out, which meant I couldn't try the Five Hop and had to go for the London Pale Ale. The LPA was fine, and a better choice than the Gold which was bottom-of-the-barrel and was described as 'sock-like'.
###Anspach & Hobday | Bullfinch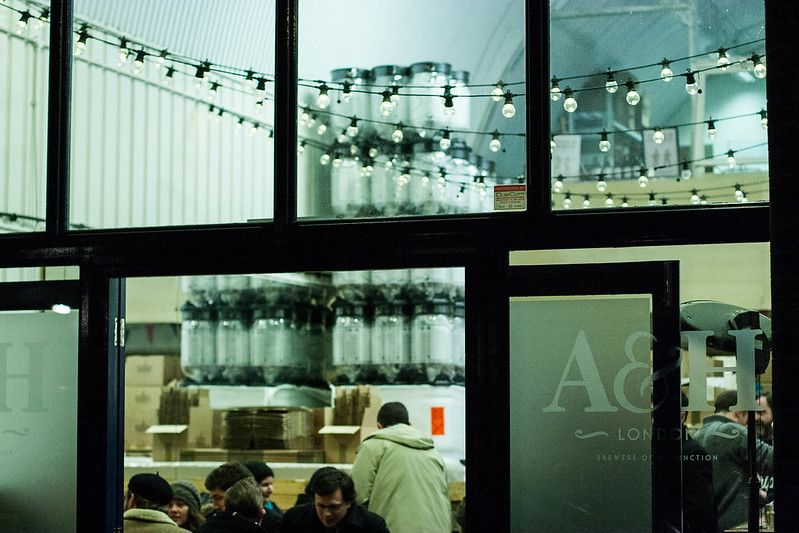 The Shared A&H - Bullfinch Brewery Tap
The final (by virtue of it being the last to close) Brewery Tap on the Mile is the premises shared by Anspach & Hobday and Bullfinch. I had no previous experience of either of these breweries and I have to say they were both a real find.
I have been enjoying Dark IPAs a lot recently, and given that I had sensibly stayed below 6% up to this point I opted for the 7% Notorious, a rich malty beast hopped up to the eyeballs with New Zealand hops. The others got involved with the RyPA, which was my second choice, and the Rascal "Session Ale".
The opening hours were sufficient for us to be able to also tackle the A&H offerings. I decided to stick to the theme that had served me so well up to that point and went for the Galaxy Saison, which prompted much discussion over the elusive childhood sweet of which it was reminiscent. We settled on Rhubarb & Custard, although I'm really not sure that's right. The IPA and the Pale were also good, but I am clearly now a man for all Saisons.
We had planned to head to the Bottle Shop once the breweries were done, but they had closed sooner than advertised.
The Bermondsey Beer Mile is well worth the trip if you're in any way interested in Craft Beer, Brewing, or standing outside. I'd probably recommend not going in the middle of January unless you have a particular birthday-related reason to do so.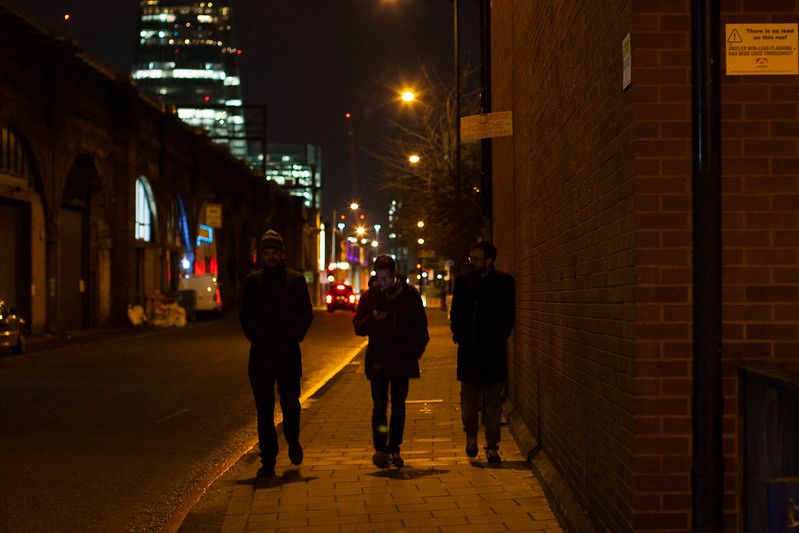 The Walk Home
---
---
---