Chocolate Chip and Bacon Cookies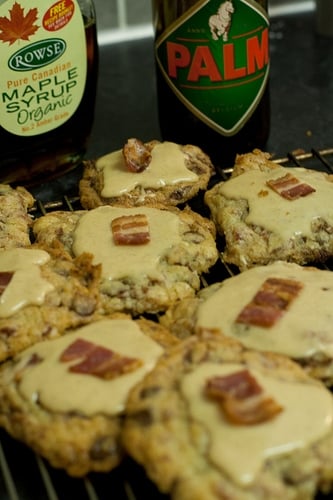 Back in 2007 I found a recipe for Chocolate Chip and Bacon Cookies on a website called Never Bashful With Butter. I'm glad I took the recipe down, rather than relying on links, because the blog isn't there any more.
I've made the cookies a few times now, refining the recipe as I go along, and am now at a point where I think it's ready for sharing. So, in memory of Never Bashful With Butter, here it is:
Chocolate Chip and Bacon cookies (makes a batch of 24 large or 48 small cookies)
225g butter
150g soft brown sugar
150g granulated sugar
1/2 teaspoon vanilla extract
1 egg (you can add an extra egg if the dough comes out a bit dry and crumbly)
300g flour
1 teaspoon baking soda
1/2 teaspoon salt
200g dark chocolate chips
One bottle of beer, chilled. What kind doesn't really matter, just one you like.
24 rashers thinly-sliced dry-cure streaky bacon
First, heat a grill to its highest heat and spread the bacon rashers on your grill pan so theyíre not touching or overlapping. Grill the bacon rashers until theyíre really crispy, turning once. You might need to do this in batches depending on the size of your grill. Remove each batch onto kitchen paper to soak up excess grease.
Set aside two rashers. You will be tempted to eat them, but resist. Once the rest have cooled sufficiently, put on some loud music and chop them into very fine pieces with a big knife. Youíre aiming to get about 200g of tiny cooked bacon bits. If you are unsure of your ability to not eat the tasty tasty bacon, maybe cook a couple of extra rashers.
Preheat oven to 175 C
Beat together the butter, sugars, vanilla extract and eggs until creamy.
In another bowl, sift together the dry ingredients.
Add the dry ingredients to the butter mixture and stir together into a soft dough.
Add in chocolate chips and bacon bits and stir until itís all mixed together properly.
Place dough on a sheet of greaseproof paper and refrigerate. While the fridge is open, remove the beer.
Open the beer, and have a sit down for an hour or so, enjoying the cool refreshment and sense of kitcheny accomplishment. Do not eat the two spare rashers of bacon.
Remove dough from fridge, divide into three equal pieces, then divide each piece in half, then in half again and so on until you have 24 or 48 dough blobs. Roll the dough blobs into balls, then arrange them about 2 inches apart on an ungreased cookie sheet. Squash your balls slightly in the middle with your fingers.
Bake cookies for about 10 minutes, or until the dough starts to turn golden brown. Remove to a cooling rack.
Maple cinnamon icing
225g icing sugar
2 tablespoon maple syrup
1 teaspoon vanilla extract
1 teaspoon cinnamon
Take the two crispy bacon rashers left over from earlier that you havenít eaten (you havenít, have you?) and chop each one into 12 small pieces with a pair of scissors. This will give you 24 pieces, one for each cookie, so try not to eat any. If you've made the smaller cookies, just cut smaller pieces.
Mix all other icing ingredients together until smooth and creamy.
Spread a small amount of the glaze on the top of each cookie and top with your crispy bacon square.
Serve to amazed and delighted friends and colleagues.