The Gunton Arms - Best Pub In The UK?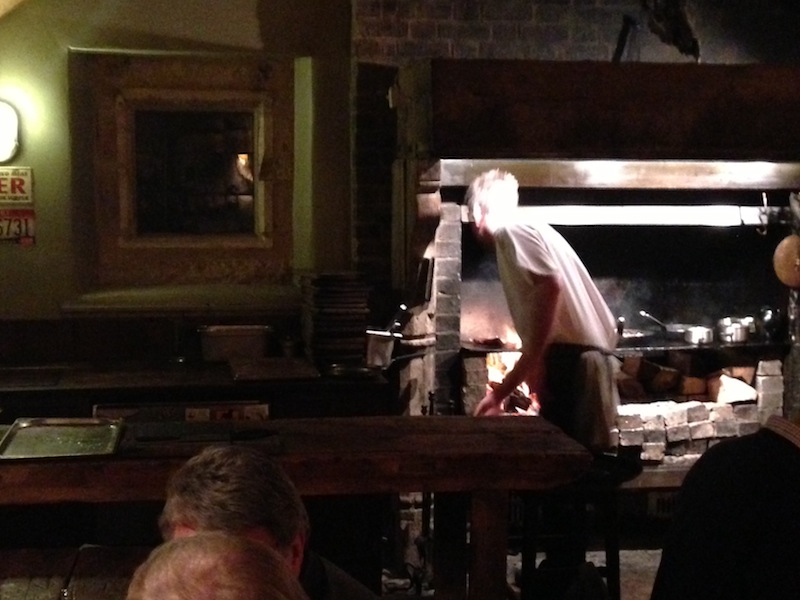 I'm still not entirely clear why we booked North Norfolk as our Easter holiday destination. It just seemed to happen - one minute, we didn't have a holiday booked, the next we were staying in The Pink Room of a B&B in Sheringham. We'd had no recommendations for places to stay or eat, so were kind of making it up as we went along. The day before we set off, I flicked through my father-in-law's 2013 Michelin Eating Out In Pubs book, and noticed that their pub of the year was a place called The Gunton Arms, a couple of miles outside Cromer and only a short drive from where we were staying. We called ahead and got a table for the second-to-last night of our holiday.
We thought we knew what we were getting. When something is described as a gastropub and gets recommended in a book like that, you immediately jump to a certain mental image - lots of glass and chrome, maybe some light wood and a water feature. All we knew for certain was that it had a log fire, over which some of the speciality dishes were cooked.
I certainly wasn't expecting possibly the best pub in the UK. We walked in to discover a packed front bar, complete with a pool table, dart board and dog. AC/DC on the jukebox, and a decent selection of handpulls stocked with local ales. We were dressed for dinner, but we wouldn't have felt out of place if we'd stumbled in wearing muddy hiking boots and cagoules (unlike the 'walker friendly' pub we had popped into earlier that day, where we had been hurriedly manoeuvred into a corner to keep us out of harms way). We shared a table with a family of bikers. I could have sat there for hours, but we did, after all, have a table booked for dinner.
We hadn't booked in time to get a table in the Elk Room, the main dining room containing the aforementioned log fire, but were instead in a side room decorated with an amusing combination of neon signs and a giant lace crab. Service was just the right amount of attentive, and the menu and wine list were both broad and reasonable.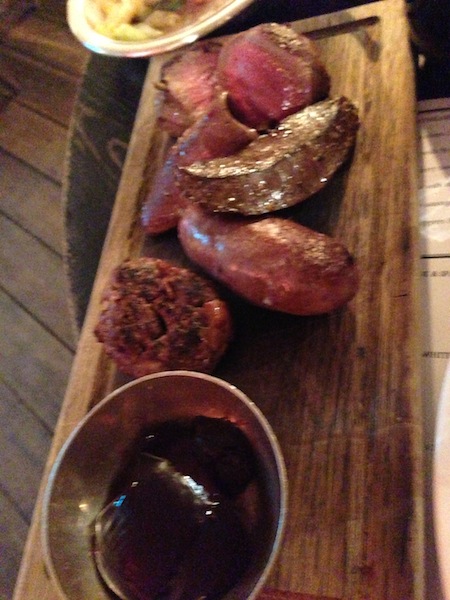 Venison Mixed Grill
I chose a starter of devilled duck hearts on toast, and The Wife went for one of the daily specials, crab soup with cider brandy. My hearts were nicely pink in the middle and generously spiced, but I have to admit to serious soup envy - it was deeply flavoursome and warming.
I had decided on my main course before we even got to the pub, the mixed grill of venison having been highly recommended by more than one person. All the venison on the menu comes from the deer park in which the pub sits; it couldn't have a shorter journey from field to plate. The mixed grill comprises steak, sausage, a burger ball, liver and heart, served with a redcurrant jelly and a side of cabbage, cooked with bacon for good meaty measure. Everything was pink where it should be, and I can honestly say I've never enjoyed a piece of liver quite as much in my life - smoky and chargrilled on the outside, meltingly soft inside. K opted for the venison sausage (cooked on the fire in the Elk Room) with mash and onion gravy, a heroic choice given the size of it (I may have helped).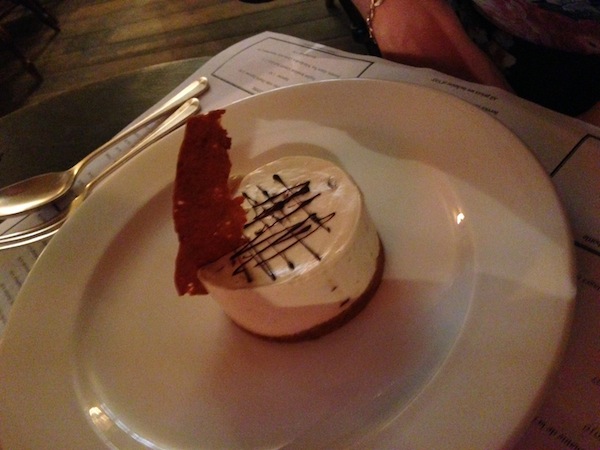 Caramel & Biscuit Cheesecake
We got involved in the puddings before our bellies had time to work out exactly how much we'd eaten. We'd both narrowed it down to the same choice of two, so we split the difference and shared the tiny cinnamon doughnuts with custard, and the caramel and biscuit cheesecake.
After coffees, and a strange conversation with the restaurant manager who had decided he looked like a chunkier version of me, we repaired to the bar, where I found a Lagavulin 16 and a table near a fire. The family of bikers were still ensconced in their corner, the remains of some very tempting-looking bar snacks on their table, and a game of darts was in full swing. I've never been anywhere which has so effortlessly combined the atmosphere and ethos of a Proper Boozer with serious restaurant food. Next time, we're staying over.
---
---
---